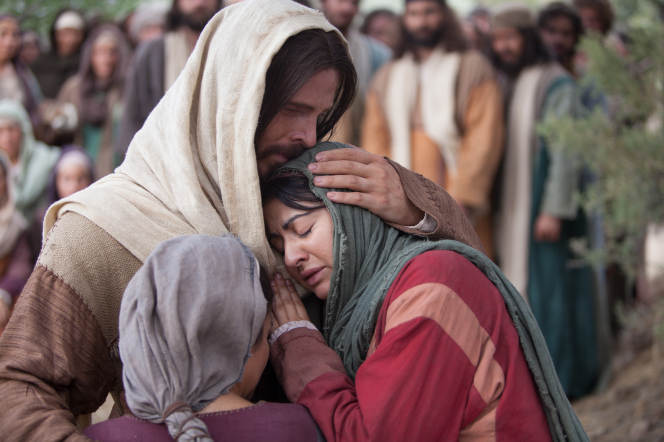 (Christ comforting Mary and Martha)
I believe the Restoration of all things will not be complete until we have a full and correct understanding and appreciation for the role of women. As I have watched and learned from modern-day prophets, apostles, and general auxiliary leaders, I have felt that revelation regarding Relief Society and women is expanding. I predict that in the next ten years, we will continue to hear much about the true nature and calling of women in the Church and in world.
As I have looked at women who lead in these modern-days it is clear to me that the Lord is trying to change some common LDS misconceptions. In a three paragraph description about their lives, almost ever female auxiliary leader outlines places that she has WORKED outside the home while at the same time emphasizing her role as a MOTHER. The two are not exclusive.
Good, righteous, committed, nurturing, wise, discerning mothers can get an education, have a family, raise their children, volunteer in their communities, and even work outside the home. Some may find this growing trend concerning. I find it interesting.
I love how Professor Eva Whitesman (who gave the wonderful devotional at BYU,
Women and Education: "A Future Only God Could See For You
") describes female educational pursuits as NON-LINEAR. She says,
"In a world that values education primarily as a means to increase our value in the workplace, nonlinear educational paths may sometimes be considered nontraditional, but they are not nonessential. As Kristen Oaks observed, "Women's educational paths and experiences are often very different from men's."As Latter-day Saints, we know that the pursuit of education is not merely about gaining marketable skills in an efficient and linear fashion but that education is a tool for gaining important spiritual growth and spiritual gifts that can be used in all facets of our lives."
Righteous LDS women leaders have worked throughout history. I'm not sure when we began to think that women could not be good mothers if they made money. How do you think early pioneer women supported their families while their husbands served missions? Mormon Women are some of the most industrious women in the world. We all work, we work hard, and we value motherhood.
Because of the misconception that valuing motherhood was incompatible with a career, women who worked have not told their stories. Women who have worked rightfully emphasis their greatest priority their families, without accurately showing other women how much they were truly able to do.
Almost EVERY women in my husband's good, righteous, hardworking, full-pioneer roots, family has
worked
. They would say things like "I worked until my first child was born and then stayed home until my youngest was in school," or "I taught piano lessons from home while my children were young," or "I worked at the school where my children attended," or "I worked at the library, part-time." "My children helped with dinner until I got home." "I was a nurse at night while my children were young." Mormon women work. Please note-- these mothers who worked are women who are the very best mothers IN THE WORLD and in the Church.
Mormon women are also well-educated. These women get their degrees fast and don't postpone motherhood to do it. Most of us have given birth to our first children just barely at the end of getting a school degree where we doubled up on credits to complete it quickly. Many of us are using online programs like Pathways to earn a degree while staying home with our children. Many Mormon mothers, like myself, go back to school in later years when our children are all in school. Women without formal degrees spend their lives studying religious texts for Sunday School, and we are encouraged to seek learning out of the best books. Many Mormon women homeschool their children. We read. We fix things and talk about politics. It takes great knowledge and education to successfully manage large families on a limited budget. I love the stories of Sis Hinckley and Sis Monson, who had to manage their homes with a husband who worked double-duty almost all of their lives as church leaders and providers for their families. Sister Monson, for example, always fixed the plumbing issues and assembled the Christmas presents. Mormon women are called to be educated, industrious women.
It would be interesting to truly evaluate the educational and career paths of LDS women. I think you will see a collection of women who use creativity and ingenuity to become educated and to help support their family while continuing to have large families who they care for with great emphasis and skill. You would also see husbands who support these women in many non-traditional ways.
Let's look at the women currently leading General Auxiliaries.
I don't believe it is a COINCIDENCE that these women mention WORK in their short biographies on LDS.ORG. This is purposeful and DIFFERENT from traditional female biographies. Why? Ask yourselves that question. I don't believe they are the first female leaders who have all worked outside of their home at some time in their lives. They are also NOT women who put money and careers ahead of motherhood and family.
I'm going to copy and paste right from
THIS
page that links to their biographies.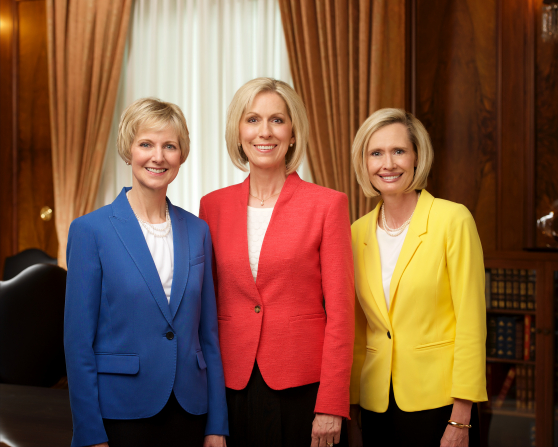 (Primary needs a new picture, now that Sister Bingham got called into the General RS.)
PRIMARY
Sister Joy Jones
, General Primary President,
"As a young adult, Sister Jones worked as a dispatcher for the U.S. Forest Service at the Redmond Air Center in eastern Oregon, sending out smokejumpers, suppression crews and supplies for forest fires in the northwest, and as an administrative assistant at the Federal Building in Provo. She was also trained as a medical assistant and worked at a dermatology clinic in Provo. She received an associate of science degree in family living at BYU. Sister Jones and her husband lived in Santa Rosa, California, for 14 years, where her husband opened a chiropractic practice."
Sister Bonnie
Cordon
,
First Counselor in the General Primary Presidency,
"Sister Cordon received a bachelor's degree in education from BYU. She worked in management in the software industry. She was a working mother until she was expecting her third child and she and her husband relocated to Indiana. "I put all my corporate clothes back in my closet and put on my peanut butter and jelly clothes," she said. After a move to Boise, Idaho, she jumped back into the business world, starting her own business. She also was a school volunteer in Idaho and Utah, serving in PTA, the classroom and community council."
Sister Cristina Franco
, Second Counselor in the General Primary Presidency,
"After graduating from high school in 1977, she moved to Utah with her family, where her father continued his career as a watchmaker. This turned into a successful family business that specialized in fixing and selling watches, a company that Sister Franco was a part of for 28 years. She worked in the family business when her sons were at school and received the support of her parents when long hours kept her from being home, but she always kept her children's spiritual nurturing a priority: "We made scripture study each morning a must before they left to school," she said."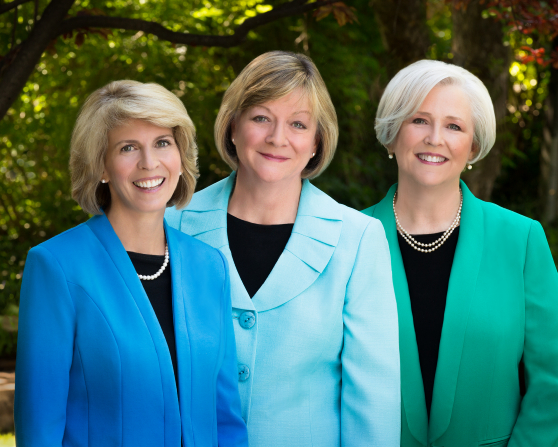 Young Women
Sister Bonnie Oscarson
, General YW President,
"She served with her husband when she was still a young mother as he presided over the Sweden Göteborg Mission and then 30 years later returned to Sweden where she and her husband served as matron and temple president of the Stockholm Sweden Temple. She has served as a ward Young Women president three times, in a stake Young Women presidency twice, and taught early morning seminary for nine years. Sister Oscarson loves working with the youth of the Church. She doesn't regret any of the sleep she missed while teaching seminary. She returned to school after 35 years and earned a bachelor's degree with an emphasis in British and American Literature."
Sister Carol F. McConkie
, First Counselor in the General YW,
She graduated from Arizona State University in English Education... and now has seven children and 24 grandchildren. Prior to her call as first counselor in the Young Women general presidency, Sister McConkie was a member of the Young Women general board. From 2005–2008, she served with her husband when he was mission president of the California San Jose Mission. She has also served in ward Primary and Relief Society presidencies and as ward Young Women president. If you have ever heard her speak, you have heard how educated Sister McConkie is. I believe her talks sound like Psalms. Her knowledge and faith is so evident and admirable. I love her favorite scripture as it relates to a woman's WORK. "the work of righteousness shall be peace; and the effect of righteousness quietness and assurance for ever" (Isaiah 32:17)."
Sister Neill F. Marriott
, Second Counselor in General YW,
"attended Southern Methodist University in Dallas, Texas, USA, where she earned a degree in English along with a teaching certificate. At the age of 22, she was converted and baptized into the Church in Cambridge, Massachusetts, USA. One year later she married David C. Marriott in the Salt Lake Temple. They are the parents of 11 children and 26 grandchildren. At the time of her calling as second counselor in the Young Women general presidency, she was serving on the Church Writing Committee. She has worked in many stake and ward callings and also served for three years with her husband when he was president of the Brazil Sao Paulo Interlagos Mission."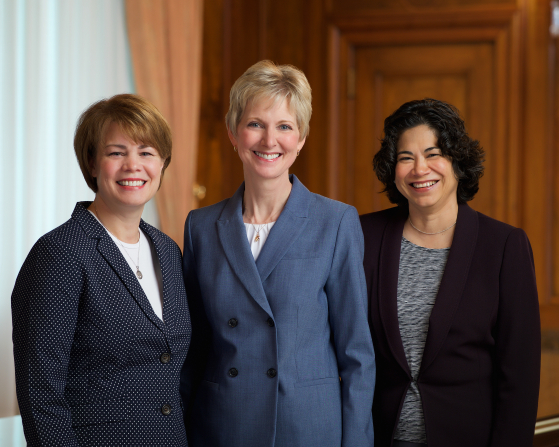 Relief Society
Sister Jean Bingham,
General RS President,
is
"the mother of two daughters and was also foster parents to teens and children, many of whom have become part of their family. While her children were in their later school years, Sister Bingham returned to college. She received a bachelor's degree and master's degree in teaching from National Louis University in Illinois. She also received associate degrees from Brigham Young University and Elgin Community College. She taught English as a second language to elementary students at a private school, in addition to immigrants and others for nonprofit organizations. She also worked as a nurse's aide. Sister Bingham worked as a volunteer aide in her children's schools and served in numerous teaching and leadership positions with the women, children and youth in her local congregation, serving as president of the Primary and Young Women and as counselor in the Relief Society. She taught teenagers in early-morning seminary for six years and served as a temple ordinance worker in the Chicago Illinois Temple."
Sister Sharon Eubank
, General RS First Counselor,
At the time of her call in April 2017, Sister Eubank was employed as the director of LDS Charities, the humanitarian organization of The Church of Jesus Christ of Latter-day Saints, and she continues in this role while serving in the Relief Society. She served as a full-time missionary for the Church in the Finland Helsinki Mission and received a bachelor's degree in English from Brigham Young University. After graduation, she taught English as a second language in Japan, worked as a legislative aide in the U.S. Senate and owned a retail education store in Provo, Utah. Since 1998 she has been employed by the Church's Welfare Department, helping establish LDS employment offices in Africa and Europe before directing the LDS Charities wheelchair initiative. In 2008, she was also asked to oversee humanitarian work in the Middle East as the regional director of LDS Charities. In 2011 she was named the director of LDS Charities worldwide. She believes serving others is "the very DNA of being a member of Christ's Church" and the heart and soul of Relief Society.
Sister Reyna I. Aburto,
General RS 2nd Counselor,
"
attended Universidad Centroamericana, where she studied industrial engineering for four years, and holds an AAS degree in computer science from Utah Valley University. She has worked in the language industry for more than 25 years, balancing work, family and Church responsibilities, and now owns a small translation business with her husband.
I do not know how to find research on the wife of every General Authority, but here are a few of the women I know of. (Many facts I found in an article by Breanna Olaveson, "12 Reasons to Love the Wives of Genereal Authorities, you can read it
here
.)
Sister
Packer
had 10 children and is an avid
genealogist
and historian. Taking classes from home, she received a Family History
Certificate
from BYU in 2012.
Sister
Perry
worked as a
nurse
before getting married.
"Wendy Watson Nelson was a professor of marriage and family therapy at BYU before her marriage to Elder Nelson. She is well-educated with degrees from four different colleges and universities, including a Ph.D. Sister Nelson is the author of several books on marriage and family topics, including "Rock Solid Relationships" and "What Would a Holy Woman Do?"
Deseret book
has this biography of Sister Kristen M.
Oaks
,
"Kristen McMain Oaks has spent much of her life teaching. She earned a bachelor's degree in English, a master's degree in special education (both from the University of Utah), and a doctorate degree in curriculum and instruction from Brigham Young University. She was a former educational consultant in the publishing industry, instructing teachers and supervisors both nationally and internationally. She was also a Visiting Assistant Professor at BYU and served a full-time mission to Japan. After marrying Elder Dallin H. Oaks, she taught and trained auxiliaries in the Philippines for two years while he served as Area President. She currently serves on the board of trustees of the Deseret International Foundation and the Primary Children's Hospital and recently authored the book, A Single Voice. In addition to her love of teaching, she loves being a wife, mother, and grandmother. She and her husband reside in Utah."
Sister Jeanene
Scott
"was active in church and civic affairs. She served as president of the Senate Daughters in Washington, D.C., and as president of the American School Board in Cordoba, Argentina."
Sister Patricia
Holland
"studied at three different colleges after graduating from high school, including the Juilliard School. She was called to the Young Women general presidency in 1984, when her oldest child was 18 and while her husband served as president of Brigham Young University, which was an hour's drive from Church offices in Salt Lake City. Fittingly, she later wrote about responding to chaos in a book, titled A Quiet Heart."
Sister Susan Kae Robinson
Bednar
"was an accomplished pianist in her youth, driving several miles for lessons in Rexburg or Idaho Falls, Idaho, from her native Star Valley, Wyoming. She participated in several competitions during that time and later taught piano lessons as an adult."
Here is a talk recently given by the wife of Elder Dale G
Renlund
, of the Quorum of the 12 Apostles.
http://www.mormonnewsroom.org/article/sister-renlund-recalls-professional-career-mormon-law-group
"Sister Renlund was a civil litigation attorney in Utah before her husband was called as a General Authority of the Church in 2009. Their first assignment took them to Africa for five years, where she said it was the first time in her adult life that she was not employed.

"It took about six months for me to name what had happened to my life. I can only describe it as entering the witness protection program," she said, explaining that people at home didn't know where she really was and people in Africa didn't know she had a past. "I had a new name. I practiced law using my maiden name, Ruth Lybbert; here I was Sister Renlund."'
Conclusion-
Righteous, Latter-day Saint female leaders are educated and hard-working. These women serve in their homes and in their community. They hold degrees. They have careers. They have children. And, they are NOT the exception to a commandment, they are examples to the believers.
Righteous LDS women are educated, working mothers.
Our education does not have to come with degrees and our work does not have to be compensated financially, but we are certainly not breaking any commandment if we do hold degrees or are gainfully employed while we are wives and mothers.
I still consider myself a stay-at-home mother.
I worked for the Church as a full-time seminary teacher when I got pregnant with my first son, 18 years ago. For 20 years I was a full-time mother who almost ALWAYS served outside of my home in numerous volunteer and leadership positions. My children are the confident, educated, kind, compassionate children they are because I have taught them how to serve others. I learned this example from watching other beautiful, powerful women.
Here is a part of my story I haven't told you. As I wrestled with the decision whether or not to go back to school full-time this year I had convinced myself it was against church counsel and yet I felt so compelled that I was going to damn myself to hell by moving forward with my application. I wrote a facebook message to my dear friend who is the daughter of a former General RS President and a mother of 9 children (whose youngest just entered kindergarten). I told her that I was having a midlife crisis and feeling so strongly the desire and need to go back to grad school. I said, "Help me! I think I'm selling my birthright for a bowl of porridge."
She wrote back the most beautiful and soul-soothing note... "Hey, you're talking to the wrong person! I spent the summer studying to be a financial planner and I am now licensed in securities and life insurance! I work from 9-3 every day. I absolutely love it and feel completely energized every day. It has made a huge difference for me and for our family. So of course I say GO FOR IT! Times and seasons, baby! Your time to be pregnant is over. Your brain is craving a bit of a stretch!"
Oh how those three words "GO FOR IT!" have just sent peace and confidence into my soul.
I am not the advocate for working mothers. I am not saying in this blog that LDS females have all been typical "working mothers." Most LDS mothers are stay-at-home moms, and that is because we listen to wise, prophetic counsel. Children are our greatest work. Mothers at home can teach lessons children can learn no other way.
But, I am saying to so many of you, serve more, love others more, learn more, lengthen your strides, un-circle your wagons, ask God what He wants you to do and then TRUST HIM. This might mean you have another baby. It might mean you take a class at the local university or it might mean you decide to home school a child. God might call you to a calling you are so unsure how you will be able to do. It might mean you support your husband and move to an unfamiliar state or choose to welcome a foster child into your home. Trusting God will almost always cause you to stretch and grow. Your path will not look like my path. It might not be linear. But, it will be beautiful. Listen to the Spirit. Counsel with your husband. Pray, go to the temple, ask your mom or another trusted friend what they think. Feel in your heart if your worries are peaceful concerns or just cluttered fear. And then-- GO FOR IT!
Life is good.
Women are good.
God knows YOU, He is guiding you. Follow Him and He will make you Fishers of Men.
He taketh the barren woman and maketh her a joyful mother of children.
Praise ye the Lord.